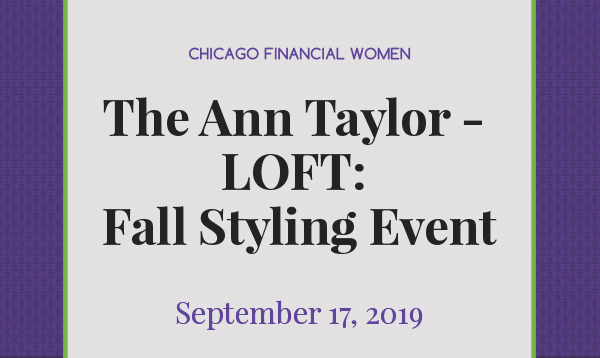 Get ready for Fall with a wardrobe refresher at Ann Taylor Loft. Receive fashion advice from a wardrobe specialist and learn about this season's top trends while networking with other Chicago Financial Women. Includes food & wine, as well as exclusive access to a 40% discount to use in-store & entry to win a $100 gift card.
Event Details
Date: September 17th 2019
Time: 5:30 p.m. to 7:30 p.m.
Location:  The LOFT
111 W. Monroe Street Chicago, IL
Cost: $25 – Snacks and wine will be provided by CFW.
Follow us on Instagram at @chicagofinancialwomen for updates!
REGISTRATION: CFW MEMBERS ARE REQUIRED TO REGISTER PRIOR TO AN EVENT. THERE IS A ROOM MAXIMUM AND LIMITED TICKETS ARE AVAILABLE.

Please be advised that photographs may be taken at CFW events for use on the CFW website and in the other marketing materials. By entering this event, you consent to Chicago Financial Women photographing and using your image and likeness.