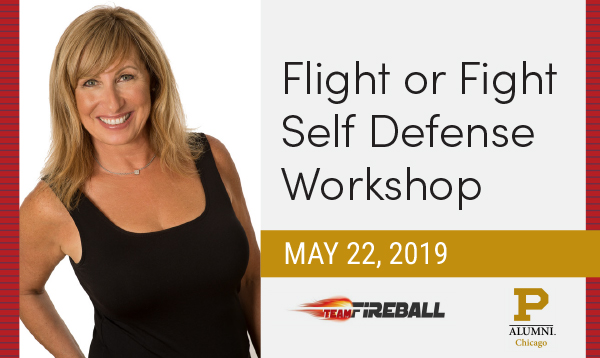 ** This 75-90 minute interactive personal safety awareness training coupled with hands-on instruction of personal safety techniques. Attendees will leave with 3-5 physical skills that could save their life in the event of violence both in and out of the workplace. Inclusive of all levels of physical fitness.
About Debbie Pickus
Debbie Pickus has a black belt in Shotokan karate, has been a fitness professional for over 20 years and is the former co-owner of a Title Boxing Club. Her years in fitness and martial arts have given Debbie a unique perspective on the mind/body connection and how to use it as a power source. She works with and speaks to groups about harnessing this power to create confidence, energy and success in their business and personal lives.
Her company, Team Fireball was founded with the concept of doing something unique, powerful and active to FIRE UP the average workplace team building event. It rapidly became much more. With the rise of workplace violence and the #metoo movement, physical and mental self- defense became the cornerstone of the business and companies are now understanding the importance of incorporating personal safety training for their employees. Her company has a mission to deliver these empowering programs to those affected by domestic violence, changing the mindset, self- esteem and belief systems of those who feel trapped by their circumstances. She has worked with many of the DV focused organizations in the Chicago area.
Contact Debbie for more information: debbie@team-fireball.com
Event Details
Date: May 22, 2019
Time: 5:30 p.m. to 7:30 p.m.
Location: Niche 905 Club Lounge
905 N. Orleans Street
*** Niche 905 building is a tenant high rise and the event will be in top floor party room of our co-sponsor
Cost: $30 – Snacks and wine will be provided by CFW.
REGISTRATION: CFW MEMBERS ARE REQUIRED TO REGISTER PRIOR TO AN EVENT. THERE IS A ROOM MAXIMUM AND LIMITED TICKETS ARE AVAILABLE.


Please be advised that photographs may be taken at CFW events for use on the CFW website and in the other marketing materials. By entering this event, you consent to Chicago Financial Women photographing and using your image and likeness.