Past Event: March 7 – How Modern Meditation Came to Chicago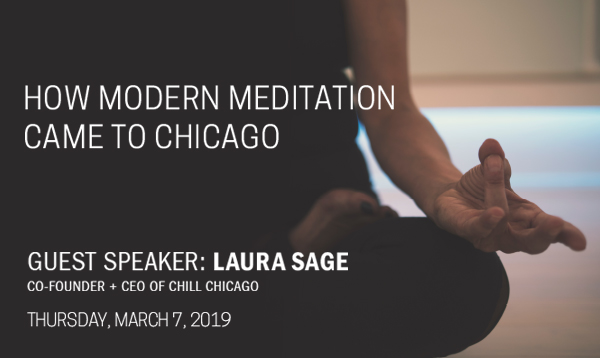 Laura Sage will talk about her journey from working in financial services to co-founding Chill Chicago as well as discuss the benefits of meditation and yoga. Attendees will also be guided through a meditation session.
Event Details
Date: Thursday, March 7, 2019
Time: 5:30 p.m. to 7:30 p.m.
Location:Fidelity Investments
1 North LaSalle Street, Floor 25
Chicago, IL 60602
Cost: $25- Snacks and wine will be provided by CFW.
REGISTRATION: CFW MEMBERS ARE REQUIRED TO REGISTER PRIOR TO AN EVENT. THERE IS A ROOM MAXIMUM AND LIMITED TICKETS ARE AVAILABLE.


Please be advised that photographs may be taken at CFW events for use on the CFW website and in the other marketing materials. By entering this event, you consent to Chicago Financial Women photographing and using your image and likeness.