Past Event: November 4: The Evolution of the Hedge Fund Industry
Join us for a presentation by Roxanne Martino, Chief Executive Officer, Investment Committee Chairperson and Partner of Aurora Investment Management L.L.C. Aurora is an industry-leading provider of hedge fund solutions with over $9 billion in assets under management. Ms. Martino will provide her perspective on the evolution of the hedge fund industry – from its origins with high net worth individuals investing in commingled funds to customized portfolio solutions developed for institutions and finally, the movement into the retail investment mainstream with the advent of daily liquidity funds. In addition, with CalPERS's recent announcement to exit hedge funds, Ms. Martino will offer her take on the future of the alternative investment industry.
Speaker bio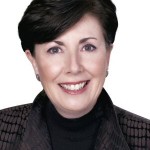 ROXANNE MARTINO
Roxanne Martino is Chief Executive Officer, Investment Committee Chairperson and Partner of Aurora Investment Management L.L.C. Aurora manages over $9 billion in hedge fund assets, including customized portfolio solutions and a registered mutual fund. The firm's alternative asset business was established in 1988 with the launch of Aurora Limited Partnership, which was developed by Ms. Martino.
Ms. Martino has served on the Finance Advisory Board of DePaul University Chicago, is a Council Member of the Chicago Booth School of Business, member of The Economic Club of Chicago, the Business Advisory Council (past Chairperson) of the Mendoza College of Business of the University of Notre Dame and has served three terms as a Director of The Investment Analysts Society of Chicago. She is also Director of Thresholds (former Chairperson), a Chicago based not-for-profit psychiatric rehabilitation organization, serves on the Investment Subcommittee of Catholic Relief Services, serves on the Board and Investment Committee of Lurie Children's Hospital of Chicago and its Research Center and is a Chairperson of its current Campaign. She is a Life Trustee of Fenwick High School, and a member of The Chicago Network. In 2014, Ms. Martino was honored by DePaul University as the "DePaul University Financial Executive of the Year" based on her lifetime of professional achievement.
Ms. Martino received a Bachelor of Business Administration from The University of Notre Dame in 1977 and an MBA from The University of Chicago in 1988.
Event Details
Date: Tuesday, November 4
Time: 5-6pm networking; 6-7pm presentation
Location: Morningstar, 22 W Washington St.
Cost: $25